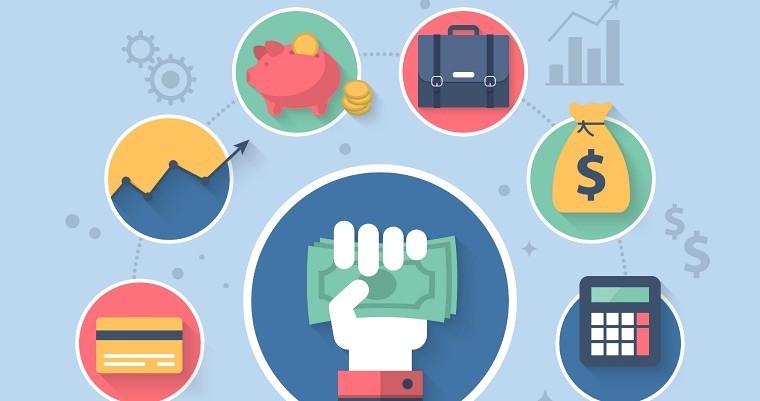 Are you looking to fund your app start-up? In this blog, we explain the key issues to explore before choosing your funding options, and the different options available during the life cycle of your app business.
When app entrepreneurs start thinking about finding funding, they three questions pop up right away:
Should I raise funds for my idea, and if so, how much?

When is the right time to get the funding for my app idea?

What's the best way to find money for my app?
The answer to these questions really depends on where you want to go with your idea. Your decision-making becomes much easier once your vision is clear.
TO RAISE OR NOT TO RAISE?
If you want the app to provide a good lifestyle with less working hours and steady cash flow for yourself, you're better to self-fund as much as possible. It is possible to fund a successful business without external investment.
Markus Frind founded the dating site Plentyoffish in 2003, and built it to a very profitable company without any external funding. In 2015, he sold it to the Match group for $575,000,000 U.S. in cash.

Zoho is a very successful Enterprise software company with hundreds of thousands of users which never took any external funding, and founder Sridhar Vembu shared he has no interest in funding (or an exit strategy) in spite of getting calls from investors every day.
Of course, many people launching a tech start-up don't have the option to fund the project themselves.
RAISING MONEY: WHEN DO YOU START?
This is a very difficult decision which weighs on the reality that the sooner you raise funds the quicker you can release your app vs. the fact that the sooner you bring an  investor on board, the less you have to show them which generally5 results in them asking for a larger share of your idea.
A rule of thumb is that the best time to raise funds for an app idea is to ensure it's there before you need it. Note that it's a fact that getting investors on board when all you have is a great idea has its own challenges.
The best case scenario is that after you have spent a little time and money on things like an app prototype or generating data to show there is a demand for your product you can raise funds without giving away as much of your equity.
FINDING
 MONEY
There are three main funding sources for tech start-ups: crowdfunding, angel investors, venture funds, and "going public," or IPO. Let's look at each.
Crowdfunding. Crowdfunding is a way of attaining capital from a large pool of individual investors, friends, family, etc. This funding option also leverages the networks of these individual investors, increasing your reach exponentially. There is no limit on how much money you can raise using crowdfunding.
However, most crowdfunding platforms impose a time limit within which the target has to be achieved. Therefore, it is important to be reasonable with your funding goal. Also, running a crowdfunding campaign involves a learning curve and takes a lot of time, so be realistic about that as well.
There are two types of crowdfunding options available.
In reward-based crowdfunding, entrepreneurs offer rewards that supporters receive if the funding goal is attained, such as t-shirts, experiences, or the product itself when it's complete.

In equity-based crowdfunding, entrepreneurs offer equity in exchange for capital if the funding goal is attained.
Some popular crowdfunding platforms include Kickstarter and Indiegogo. Popular crowdfunding platforms specialising in mobile apps include:
Appsfunder

Appbackr – Surf

Appsplit

Angel
Angel investors. Angel investors are wealthy individuals who invest in start-ups in exchange for equity in the start-up company. These investors generally invest in the early stages of funding, providing seed funding anywhere from $25,000 to $1,500,000.
To look for potential angel investors, do an internet search for angel investors in your city. Don't write them a cold email; see if you have can get an introduction from a mutual contact. Use LinkedIn to find out if you have a mutual contact, and to research about the angel investors that you'd like to target. Go to events they go to, network, and ask them out for a coffee.
MELBOURNE ANGEL INVESTOR GROUPS
Venture funds. Venture capital funds typically come into play after seed funding. Venture capitalists obtain funds from a plethora of sources, such as foundations, wealthy individual groups, endowment funds, etc. They invest much larger amounts than angel investors. Venture capital firms invest in businesses, not ideas. They care about the ability to execute. So get your idea built, get customers, create revenue, and then approach VC firms.
Below are some VC firms in Australia.
IPO. IPO, or Initial Public Offering, is when your company shares are sold to the general public, usually with the help of an investment bank. This is when the founders and investors monetize to get a return on their investment. A company selling common shares is never required to repay the capital to its public investors. The ability to quickly raise potentially large amounts of capital from the marketplace is one reason many companies go public. The disadvantages of going public are that the founders lose a lot of control over their own business, and are subject to much higher legal and compliance requirements.
Some noteworthy Australian start-ups that went public include:
Started in 2002 in Sydney, Australia, with a $10,000 credit card, the founders say that the company has always been profitable. In December 2015 the company went public, selling 22,000,000 shares at $21 apiece, raking in $462,000,000 at a market valuation of nearly $4.4 billion.

Founded in September 2011, founder Ruwan launched the platform in July 2012 and went public in just three years, in October 2014. The IPO raised $4,000,000, valuing the company at $30,000,000. It received a lot of criticism because it was too early and had only 64 paying customers at the time of IPO.
Alibaba and Facebook are two of the biggest IPO's ever. In September 2014, Alibaba, the Chinese e-commerce company went public in the US NASDAQ exchange at $21.8 billion, making it the biggest IPO ever at that time. When Facebook went public in May 2012, it raised $16 billion. 
Fundraising is an essential skill for most start-ups. It isn't enough just to build a fantastic app; you need business skills to build a sustainable company. Putting some time and research into fundraising from the start can help transform a great idea into a successful business.
back to the Blog